Research and Medical Cannabinoids CME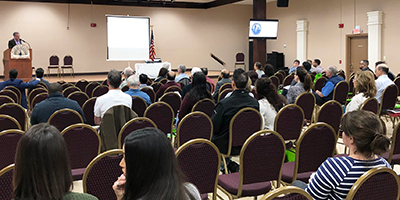 As part of the outreach activities of the Consortium, Dr. Robert L. Cook, Consortium Associate Director, and Dr. Yan Wang, Consortium Faculty Lead – Clinical Core, presented at the Research and Medical Cannabinoids CME in Ocala on February 29th, 2020.
The Research and Medical Cannabinoids CME provides an opportunity for all area medical providers and persons interested in medical marijuana in the Ocala area to learn about current research, practical applications, and legal aspects.
Other guest speakers included Dr. John Crump, a licensed medical marijuana physician, Sally Peebles, an attorney serving on the Florida Medical Cannabis Advisory Committee, and Holly Bell, the Director of Cannabis for the state of Florida.
Dr. Cook and Dr. Wang's presentations shared evidence review findings from the Consortium, and highlighted ongoing research at the University of Florida and across the state.