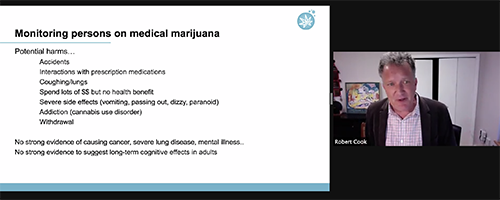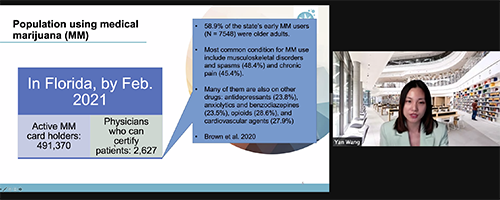 Learning Objectives from the Presentation:
Define and distinguish cannabis, hemp, CBD, marijuana, and "medical marijuana"
Describe mechanisms by which marijuana could improve outcomes in older people with pain
List several different routes of administration of medical marijuana and their potential advantages and disadvantages
Identify potential safety issues to monitor in persons who are using medical marijuana
Overview of medical marijuana and the user demographics
Current research evidence of marijuana's effect on chronic pain
A pilot study on medical marijuana use and its impact on older adults with chronic pain
The Integrative Pain Management Series for Health Care Providers, hosted by the Aging and Integrative Pain Assessment and Management Initiative (AI-PAMI), specifically addresses pain management issues unique to the aging population, such as cognitive impairment, falls, medication side effects and polypharmacy.
Health care providers learn how to help patients incorporate non-medication therapies into their pain management plan, including aromatherapy, dry needling, meditation, virtual reality and more, with the goal of increasing patient safety and quality of life.
AI-PAMI is a comprehensive project addressing non-opioid pain management in adults ages 50 and older living in Northeast Florida. The overall goal of AI-PAMI is the advancement of innovative pain education and patient care focused on multimodal and integrative pain management. The project encompasses community outreach, education and research.
View the live webinar recording of Understanding Medical Marijuana and its Potential Benefits and Harms in Older Adults Living with Pain.
Resources from the Presentation:
Marijuana and Potential Long-term Effects (MAPLE) study
The Florida Department of Health Office of Medical Marijuana Use (OMMU)
The Health Effects of Cannabis and Cannabinoids
References:
Aging and Integrative Pain Assessment and Management Initiative (AI-PAMI)