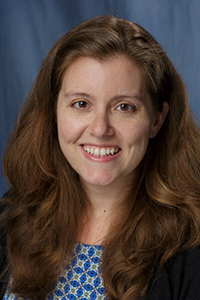 Assistant Professor, Pharmaceutical Outcomes & Policy

College of Pharmacy
University of Florida

Amie J. Goodin, PhD, MPP is an Assistant Professor within the Department of Pharmaceutical Outcomes and Policy (POP) at the University of Florida.

Dr. Goodin received her Master of Public Policy degree from the University of Kentucky (UK) and completed her Doctor of Philosophy degree at UK's Martin School of Public Policy, with specialization in pharmaceutical outcomes and an additional Certificate in Informatics.

She completed a Postdoctoral Fellowship at University of Florida POP, specializing in pharmacoepidemiology methods while continuing her work in Health Services Research.

Dr. Goodin previously worked at the Institute for Pharmaceutical Outcomes and Policy as well as the Center for the Advancement of Pharmacy Practice, both of which were housed in the UK College of Pharmacy.

Currently, Dr. Goodin's research projects incorporate mixed-method approaches to assess the impact of policy changes related to treatment access and utilization for Substance Use Disorders, particularly among persons enrolled in Medicaid and pregnant women.