To explore the Consortium's outreach program, check out the articles below.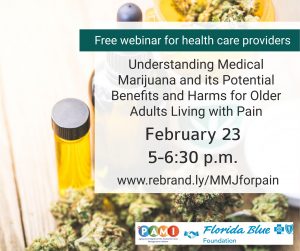 On Tuesday, February 23, 2021, Dr. Robert Cook and Dr. Yan Wang presented for the Integrative Pain Management Series for Health Care Providers on medical marijuana and its effects on chronic pain…
Want to Get Involved?
The Consortium aims to connect individuals interested in research, providers and physicians, investigators and researchers, and industry collaborators together.

Through research and networking opportunities to product and priority recommendations, we will advance our understanding of medical marijuana use.

Stay Up To Date
Want updates on the Consortium's activities, ongoing research, and collaboration opportunities?

Sign up to receive the quarterly e-newsletter, MEDICAMENT: Medical Marijuana Research Newsletter!