3-7% of Pregnant Women in the USA Report Using MMJ During Pregnancy
Since the early 2000s, cannabis use during pregnancy has doubled. The Substance Abuse and Mental Health Services Administration found that 3-7% of pregnant women in the USA reported medical marijuana use during pregnancy, specifically for nausea and vomiting symptoms. In a recent research letter, published in Nature, the authors examined the association between prenatal maternal cannabis use and the risk of neurodevelopmental disorders, specifically autism spectrum disorder (ASD).
In this article of Evidence in Context: Perinatal Cannabis Exposures and Autism Spectrum Disorders, the Consortium discusses the limitations of the study and similar studies that warrant cautious interpretation of the findings.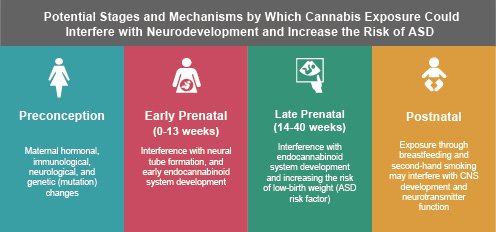 The study used retrospective data from all live births from the provincial birth registry in Ontario, Canada between April 2007 and March 2021. The data was controlled for potential confounders and adjusted for other issues like obstetric complications. The study found an association between prenatal maternal cannabis use and the incidence of ASD in children. The incidence of ASD was 4.0 per 1,000 person-years in the exposed group compared to 2.4 in the unexposed group.
Multiple limitations warrant cautious interpretation of the study findings, including:
1. Distribution of other risk factors of ASD
2. Other negative pregnancy outcomes as intermediate steps to ASD
3. No differentiation between recreational and medicinal cannabis
4. Inability of measuring cannabis exposure
Based on these limitations, a conclusion about a potential increased risk of ASD due to prenatal cannabis exposure cannot be made. Expectant mothers should still avoid using cannabis until further research is available.
Read the full commentary in Medical Cannabis and Cannabinoids.
This article is part of a commentary series called Evidence in Context. Read about the Evidence in Context series.